Translation
We translate texts from German to English for companies, NGOs, and foundations. If your text is not yet perfect, we can also combine editing with translation in one step to produce a high-quality product. Contact us for an estimate.
In addition to classic translation, we offer multilingual support based our specialized linguistics backgrounds. For example, we can advise you on transliteration choices for different alphabets, give suggestions on how to approach sensitive topics when drawing from foreign languages (for example, religious terms or language bias), and establish consistency and readability for an English-language audience. Our languages of expertise are Indonesian, Malay, Arabic, Chinese, and we can work with text from Italian, French and Spanish.
Look inside our work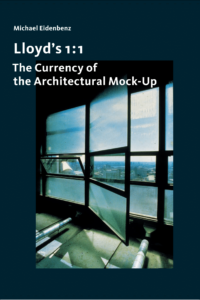 Jennifer Bartmess translated and edited
Lloyd's 1 : 1: The Currency of the Architectural Mock-Up
by Michael Eidenbenz for the gta Verlag in 2021.
Take a look inside the book.